Platforms
We utilize platforms to make most of our resources.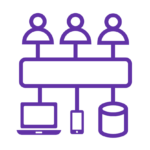 What We Provide:
Service/application platform(s) that have outcome-driven processes and guide our users during the process
Specific external platforms as applications for business-driven process development
Platforms that function as technological enablers:

Modular and integrable platform blocks for building value add-ons
Low-configuration infrastructure enablers (such as cloud computing)
Data & interoperability platforms for integration, data, analytics and IoT
We Make This Happen by:
Establishing a robust design team for doing platform and process design
Digi process factory, that digitizes various cross-functional processes to our service platform
Continuously refining and planning our platform-enabled development model
Align and embed our processes on top of the platforms
Harmonize research, innovation ecosystem and teaching processes
Enhance resource management and financial management processes
Participating into Digivisio 2030
Take part in building the future and leave your comment below!
The comments are forwarded to the service owners.